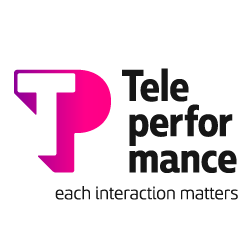 It's a great pleasure to welcome TELEPERFORMANCE as a new member, as well as being able to offer their oportunities of hiring danish speaking professionals in Barcelona. Please look above:
Es un gran placer dar la bienvenida a la empresa TELEPERFORMANCE como socio además de poder ofrecer unas oportunidades de trabajo con un detalle especial en este caso: el idioma danés. Ver abajo:
Teleperformance is a worldwide leader in customer experience management and contact centre business process outsourcing. Our company employs around 300.000 people working in over 265 dialects and languages, in 80 countries, operating across all business sectors and all continents on behalf of major international companies.
At Teleperformance, we do business with people, for people. We want our employees to be inspired and motivated. Our main goal is to make them proud to belong to Teleperformance through job satisfaction and a great work environment.
Teleperformance Spain, with more than 4,700 employees in 10 sites (certified with Great Place to Work, AENOR and Top Employer), is looking for a group of highly-skilled professionals in the area of Sales, Digital Marketing and Technical Support.
As one of the main employers of the private sector, our strategy is to attract and retain the best people, as well as provide the best work environment. Inspiring our teams around the world is our challenge to get satisfied employees who create the best experience, satisfaction and customer retention.
Check our available vacancies in our career page: https://jobs.teleperformance.es/en/offers/?search_products=danish
Teleperformance Spain is hiring Danish professionals in Barcelona
We are an international company, with more than 300.000 employees in 80 countries  and more than 4700 employees in Spain. We want to attract the best talent and keep the best people with us.
We are looking for professionals with experience in Sales, Digital Marketing, Customer Service and Technical Support, to grow with us in Barcelona.
If you want to be part of our team, click on the link below and check all our available vacancies for Danish speakers!
https://jobs.teleperformance.es/en/offers/?search_products=Danish
And if you have any questions or doubts, contact us in:  cv@es.teleperformance.com 
Sara Sánchez LLavería
Sourcing and Onboarding Team Lead
Teleperformance Spain
Teléfono   +34 915 906 000
Móvil        +34 605 674 368
Moll de Barcelona s/n  World Trade Center ES-08039, Barcelona