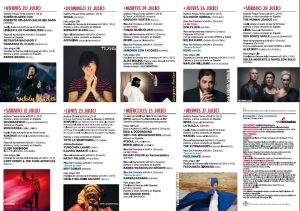 Es un placer presentar la programación de la XXIV edición del Festival La Mar de Músicas, un festival de músicas globales, que este año tiene el placer de contar con Dinamarca como país invitado y una gran variedad de actividades dedicadas al país nórdico. Cartagena (Spain) 20 to 28 July 2018.
9 grupos de música, 18 artistas visuales, 4 escritores contemporáneos y 10 películas completan la programación dedicada a Dinamarca con grupos tan importantes como  Whomadewho,  Afenginn, Eivør, The Savage Rose, Bisse, Wangel, The Kutimangoes, Liima and Den Sorte Skole.
Adjuntamos la nota de Prensa del Especial Dinamarca en el Festival y el programa completo del mismo:
La Mar de Músicas Festival is honoured to present Denmark as this year guest country with a special program devoted to Danish culture. 9 music bands, 18 visual artist, 4 writers and 10 movies from Denmark will be the spotlight with a wire range of music, art, literature and cinema activities. Main concerts will be performed by main bands such as Whomadewho, Afenginn, Eivør, The Savage Rose, Bisse, Wangel, The Kutimangoes, Liima and Den Sorte Skole.
Danish band  WhoMadeWho will be in charge of opening the Festival on July the 21st.
WhoMadeWho has become one of the best well known electronic bands in Spain thanks to its great live sessions and its precence at Spanish festivals, with fun and danceable performances. Established in 2003, WhoMadeWho are pioneers in dance and electro indie music and will perform at the Parque Torres Auditorium in a doble session with the British band Morcheeba.
Kym Nyberg, a Finnish-Sweedish, decided to built a career in Copenhagen, due to its rich musical panorama. There in Copenhagen, and with some friend, he found a band with Balcan influences. They call their project Afenginn wich means "strenght" and "intoxication" in the nordic old languages. Now they are one of the more international folk Danish bands and a reference in the independent world scene. Afenginn will perform at the Council Square on July the 22nd.
Two days after, on July the 24th the Festival will greet the Feroe Islands voice, Eivør. A vocalist, musician and composer who has an extraordinary beautiful and powerful voice with delicate, conmovent and almost supernatural shades. Its music has been part of TV shows, video games and movies such as Game of Thrones, The Last Kingdom, Deepwater Horizon, Silence or Metal Geat Survive. Most of her inspiration comes from its home in Feroe islands, where traditional folk songs change completely from one to village to another and kids grow up in musical families. Love for her culture and nature are deeply rooted in Eivør, who has enlarged her musical bases with influences coming from jazz, country, classic and electronic music.
The Savage Rose is one of the mythical bands in Denmark, one of its more important rock groups. Last year they celebrate their 50th anniversary, or rather did Annisette Kopper, its vocalist and the only one remaining since the begginings. This band is a classic venerated in Denmark, and counts with milions of fans all over the world, inlcuing Björk herself. The name Annisette is synonym of integrity and honesty. That is why Anisette is considered one of the more powerful and exquisite singer in Danish music. With The Savage Rose she has incorporate new sounds to rock and has already released twenty albums and performed at main music festivals such as Montreal or Roskilde. The Savage Rose will perform on July the 25th.
In a double program with the Spanish band M.O.D.A. on July the 27th, the Festival is honoured to receive the unique musician, Bisse. Bisse is not like anyone else at the Danish panorama. He has been compared to David Bowie or to the Danish rock star C.V. Jørgensen. "Transgress" is his favourite verb and "Prolific" his adjective. In fact in only three years he has released eight albums. He is a guy who take risks, he is an artist, an innovative performer and a composer whose works are full of energy.
Fiercely productive, creative without artistic limits and in total synchrony with his intuition. Bisse has set new standards on how to be an artist in Denmark. He is Danish music's L'enfant terrible opening new paths in music every day.
Also on July the 27th the public will enjoy the performance of the Danish duo Wangel. Wangel has become the new light guiding the electronic Danish panorama by basing their music mainly on personal experiences. This duo guides to the public to an intimate and electronic universe, where feelings are almost on surface.
The KutiMangoes, even if they sound like African, are Danish. They borrow West African music and mix it with their own western roots and give birth to a new and unique art. They merge cultures in order to create a new global art expression. The KutiMangoes will perform in Cartagena on July the 27th.
On July the 28th, closing the festival at the Castillo Árabe, will perform Liima and Den Sorte Skole.
Liima, led by jazz Finnish musician and some members of the band Efterklang, has become one of the most interesting bands in the Scandinavian panorama with two bright albums including soft textures and delicate samplers… both of them are an authentic sonourus kaleidoscope.
Den Sorte Skole is a team of producers and composers whose live performances recall a dark symphonic journey displayed in samplers, mixers and effects machines with tones of samplers flying through the voices. Their compositions are considered as a journey through the sounds of the world. Den Sorte Skole will perform on July the 28th.
Coming along with Danish music and just like every year, La Mar de Músicas will host a bunch of important bands and artists from every continent, such as Totó la Momposina, Rubén Bladés & Roberto Delgado Orquesta, Salvador Sobral, Morcheeba, Cory Henry & The Funk Apostles, Alba Molina, Texas, Songhoy Blues, Cécile McLorin Salvant, Gregory Porter, Inner Circle, La M.O.D.A., Fatoumata Diawara, The Human League, Moy Gomar, Kuve, Poolshake, Jamones con Tacones, Nelida Karr, Alex Ikot, Karmacadabra and Trending Tropics.
But woman and man do not live by bread alone. Almost fifty parallel events have been programed in parallel sections among the festival including Art, Cinema, Literature and Architecture.
Mas allá de Lars Von Trier (Beyond Lars Von Trier) is the choosen name for the film section focused on Danish contemporary cinema with movies by Thomas Vinterberg, Lisa Ohlin, Freerikke Aspöck, Tobias Lindholm, Michael Noer, Susanne Bier, Pernille Fischer Christensen, Bille August and Martin Zandvliet. This section is also coupled with a musical documentary special program.
Presenting the work of eleven contemporary visual artists from Denmark the exhibition Cuento de un océano (Tale of an ocean) reflects on the sensational creative force of the ocean and the abundance of stories attached to its mysterious vastness. Through mediums such as painting, drawing, sculpture, ceramics, video, performance and laboratory experiments the exhibition provides a multifaceted and poetic exchange of ideas reflecting the life of the sea across times and resonating with the particular history of the naval port city of Cartagena.
The exhibition will take place in 5 different spaces in Cartagena and will host works by Sophie Dupont, Jacob Kirkegaard, Oskar Koliander, Rasmus Nilausen, HeleneNymann, Kaspar Oppen Samuelse & Marie-Louise Vittrup, Julie Stavad, Tove Storch, Superflex, Astrid Svangren and Mark Tholander.
Another great exhibition will be Luz e ironía (Light and irony) aimed to create a broad perspective on contemporary Danish art using a surprising range of different languages. Luz e ironía will host works by Asger Fon, Per Kirkeby, Elmgreen & Dragset, Olafur Eliasson and Troels Carlsen.
Besides, within the artistic program there will be place for young local artists who have worked in the context of the visit that Hans Christian Andersen, author of "The Mermaid" and "The Ugly Duckling", paid to Cartagena and inmmortalised in his book "In Spain".
For the first time in its history the Festival presents a new section devoted to Architecture. Two events will be organized in collaboration with the School of Architecture and Building (Universidad Politécnica de Cartagena): an exhibition on Danish Architecture named Arquitectura para las personas (Architecture for people) and a workshop focused on public space and its relation with outdoors musical events similar to La Mar de Músicas.
Literature will have special role in the festival in order to make an approach to Danish creations in this field. Professor Enrique Bernárdez (Universidad Complutense de Madrid) and the audience will dialoge on this matter with Kirsten Thorup, Thomas Rydahl and Lone Theils. This section will be completed with the encounter of Isaac Rosa and Morten Dürr, who will give a lecture on graphic novel. As every year, all the parellel activities entrance is free of charge.
La Mar de Músicas philosophy continues giving place to bands still little known in Spain, with an eclectic and exclusive program. Actually from the 44 bands performing in this edition, 17 of them will perform only in Cartagena and 4 of them will start their Spanish tour in the port city. Global sounds will be again the leiv motiv of La Mar de Músicas, a festival that counted with an audience of more than 46.000 people last year. La Mar de Músicas has also been awarded as the "Best little format Festival" at the Premios Fest Awards, and in the Iberian Festival Awards in their last editions.
It is also remarkable that music made by women has always had a special main role at La Mar de Músicas. For several years this has been the festival in Spain that has stand up the most for bands led by women in its program; In fact this year's edition they are the forty per cent. Texas, Soleá Morente, Nathy Peluso, Fatoumata Diawara, Morcheeba,Totó la Momposina or Cécile McLorin Salvant are some of the artists performing in Cartagena, at this festival promoted by the Council of Cartagena.
¿Que disfrutéis!
Un abrazo
Cámara Hispano Danesa
Marianne K.
+34 609 60 39 39